Steller Commercial Value
Long-lasting Steller hardwood floors provide unprecedented value for property owners.
Meet our Commercial Clients
We've designed our solid hardwood floors so that ownership and management can stop worrying about flooring and benefit financially.
Steller Floors have made their mark in educational facilities, music halls, bakeries and wine bars.
Product Benefits for Property Owners
Beautiful Aesthetics

Natural beauty in 7 different North American hardwood species allows you to deliver any aesthetic and reflect your company's values.
Install Quickly

Forget waiting for certified professionals--a Steller Floor is as easy to install as LVP and no certifications are required.
Repair & Adapt Painlessly

Forget the days of difficult tear-outs. Each plank can be easily removed using a suction cup. Steller Floors are easy to assemble and re-assemble wherever you want & whenever you need.
Reduced Impact

No nails or glue means lower risk of disturbing neighboring units.
Tax Advantages

Steller Floors reduce your tax burden and improve cash flow when you use IRS Section 1245 to accelerate the depreciation of your purchases of Steller Floors in 5 years instead of 27 1/2. Ask your accountant for more details during cost segregation analysis.
Rapid Renovations Reduce Downtime

Repairs and remodels cause downtime with lost revenue opportunities. Minimize lost rent and reduced occupancy rates by choosing Steller Floors.
Reduced Labor Costs

Dramatically lower building operating costs with Steller Floors. Our product is designed to be consumer DIY friendly. Your building personnel can handle installs and repairs without specialized equipment or flooring subcontractors.
Reuse and Resale value

Viewing your removable Steller Floor as an asset (like equipment) opens a world of opportunities when you consider reuse and resale value. Will you reuse or redeploy your floor, or resell it to recoup your initial value? Let us help you avoid the landfill.
Let's Get Started
Our team of flooring experts are ready to collaborate with you, your ADE, and builder teams.
Find your Style

We have the perfect floor for you in our large selection of styles. Start with our Style Guide and order samples to find the perfect fit.

Plan your Assembly

Whether it's new construction, remodeling, renovation, or historic restoration, a Steller Floor means the absolute highest quality flooring installed faster and without the need for certified flooring specialists.

Get a Quote

Once you know what you want and how you will be coordinating your flooring project, get a quote to start the order process!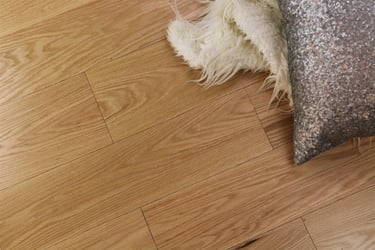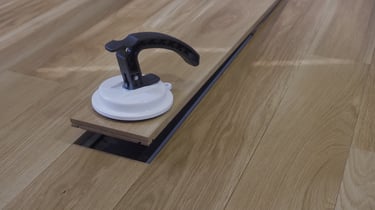 Innovation begins with Leadership