Authentic Hardwoods for Your Home
Genuine beauty in real wood built to last for generations.
Steller is changing the game for solid hardwood floors.
We LOVE hardwoods. That's why we designed the perfect solid hardwood floors for modern life.
Our innovative solid floating hardwood floors reignite the tradition of hardwood flooring without sacrificing sustainability or style.
Product Benefits for Homeowners
We provide innovative, solid hardwood floors that fit into your lifestyle.
Pet-Friendly

Our flooring contains no harmful chemicals and can be easily repaired or replaced if pets make a mess.

Water-Resistant

We pre-seal our planks on all sides to help them resist liquid water and dramatic changes in humidity.

DIY-Friendly

With no nails, glue, or certifications required, Steller Floors can be easily installed by your family or favorite handyperson! Read our Assembly Guide.
Subfloor Heating

Like other solid hardwood flooring, Steller Floors are compatible with some types of subfloor heating.

Subfloor Construction

Subfloors must be flat within 1/8" over 8-10ft and include plywood, OSB or concrete.

Sustainable

Our hardwoods are sourced from the Appalachian region of the USA. Our manufacturing facility uses 100% renewable energy.
Testimonials about Steller Floors
People are talking about hardwood flooring in a whole new way!
"I love when I can use ALL of something, and that was the case with Steller"
"Wears beautifully and looks amazing on our floors over 2 years later. We have a dog. We don't always take off our shoes, we don't always clean as regularly as we should.... Sun shines on it-no fading. And, comfort knowing that if a board does get damaged, we can fix it!"
"Steller was so easy that my son did a whole room by himself. That was great.

"
Let's Get Started
Not sure where to start your flooring project? Let us help! Our team loves talking about flooring projects and helping you plan ahead.
Find your Style

We have the perfect floor for you in our large selection of styles. Start with our Style Guide to find the perfect fit.

Plan your Assembly

Whether you are planning a DIY renovation project or will be enlisting the help of a local contractor or handyman, we have resources available! Discover our Quick Start Guide.

Get a Quote

Once you know what you want and how you will be coordinating your flooring project, get a quote to start the order process!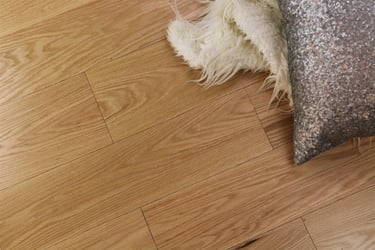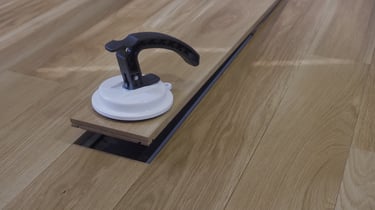 Homeowner DIY Image Gallery:
Steller Floors are the perfect DIY hardwood floors for homeowners nationwide!
Let's make your Steller Project Easy, together.
Whether you're planning a project for yourself or your client, our Wizards help you plan the project seamlessly.
Shop Styles
With 7 American species, the best part is choosing your favorite style!
Easy to Install
Steller Floors are easy to install DIY or with your favorite local contractor.
Steller Pricing
Steller Floors have the highest lifetime value with competitive pricing.