Quick Installation & Simple Care
Steller Floors are quick and easy to install without nails or glue by DIY or Professional, over Plywood, OSB or Concrete!
Fast Assembly

Without nails or glue, installing Steller Floors is as fast as LVP! Install 500 sqft with 1-2 people in a low-key afternoon and "no certification required" means you can get the help of your favorite local handyperson.

Simple Repairs

No floor of any type is impervious to wear and tear but when you get a scratch, dent or stain on a Steller Floor, you can quickly remove the plank using a simple suction cup and move it across the room or repair it.

Remove for Any Reason at Any Time

Because Steller Floors are so easy to disassemble and re-assemble, you can partially or fully remove your floor for renovations, re-deployment, refinishing or even re-sale!
David in Harrisburg
David Vdov is the owner of a multi-talented business near Harrisburg, PA. Check out his review of this Steller commercial installation conducted by himself and his brothers in an afternoon!
Get Our PDF Assembly Guide
Our Team can help out on demand!
Our team has all of the resources you need to make sure your flooring project goes off without a hitch. Discover the ways you can get all of the information you need instantly.
Schedule a Free Zoom Call

Every Steller Floor Order comes with a free zoom call from our studio with one of our experts to you and/or your contractor. We can help you get started quickly, answer any questions and (some of our experts) even tell awesome jokes!

Knowledge Hub On-Demand

Have questions? No matter where you are or what time it is, our Knowledge Hub has the answers.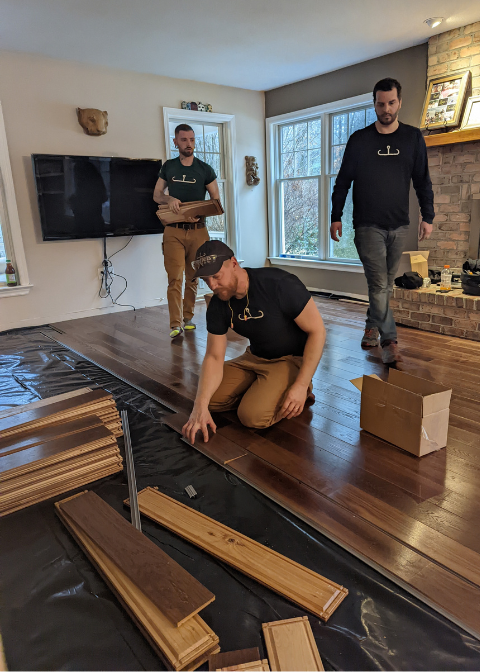 Let's make your Steller Project Easy, together.
Whether you're planning a project for yourself or your client, our Wizards help you plan the project seamlessly.
Shop Styles
With 7 American species, the best part is choosing your favorite style!
Easy to Install
Steller Floors are easy to install DIY or with your favorite local contractor.
Steller Pricing
Steller Floors have the highest lifetime value with competitive pricing.
Start your Steller Flooring Project Today!