A Steller Floor is the world's only hardwood floor that is "Forever Fresh"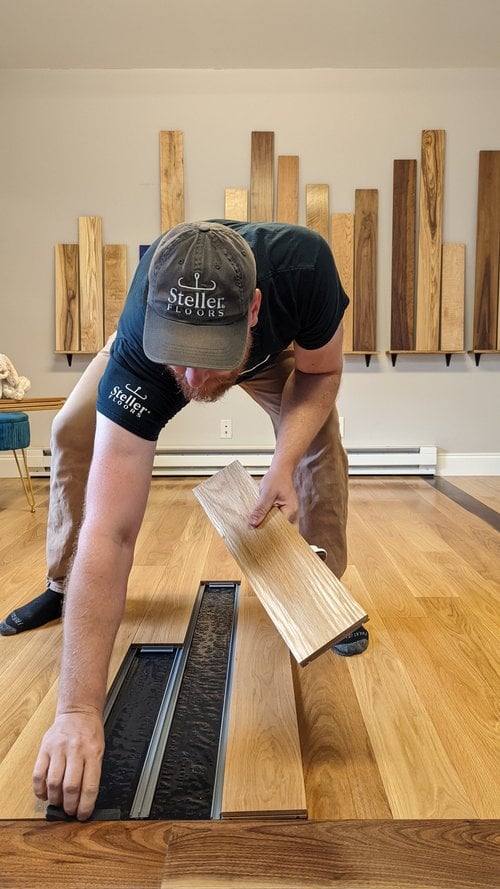 New, Patented Technology
Our patented Steller Assembly System is comprised of perfectly milled and sealed, solid wood planks that clip together, are interchangeable, and portable.
No other flooring maker can say that.
Simplicity that saves Time & Money

Assemble your Steller Floor yourself or with the help of any professional. It's designed to be DIY. No certifications are required and no nails, glues, specialized equipment, or expensive labor are required either.
Fast Fast Fast Assembly

Steller Floors are precision milled, prefinished, and protected on all six sides. Thanks to our patented Steller Assembly System, a 600 square foot room takes about half a day.
Never Refinish Again

If anything happens to your Steller Floor, pop out the plank with the suction cup we sent you and replace it with one from under the couch until you find time to refinish it. Even better, replace it for good with a plank from a Steller Refresher Pack. You will never again have to close down whole rooms, hang plastic sheets, or pay people to bring floor sanders and nasty chemicals into your living space.
Flexibility through Portability

Decide you don't like a particular board where it is? Want to change up the look of your whole room? How about moving your floor from one room to the next? Want to take your floor with you when you move? Bequeath it to your kids or grandkids? You can do all these things and more with a Steller Floor. No other floor does that.
Made to Last 100 Years

Steller Floors are precision milled to thousands of an inch flat and square. We only use the highest quality North American Hardwoods, and our inspectors don't let boards with knots or bows or twists make it into your floor. These are just some of the reasons we can say with absolute confidence that your Steller Floor will last over 100 years.
Commercial Property Benefits

Steller Floors will improve cash flow by lowering your tax burden thanks to accelerated depreciation. It installs 75% faster than other wood floors, reduces operating costs, and keeps units from coming out of the revenue stream due to lengthy shutdowns between tenants.
Exceptional Performance
What does it mean for a floor to "perform"?
Easy to Use
A hardwood floor that is easy to assemble, maintain, or repair.
Flexible
Flexibility, adaptability, and portability that the flooring industry has never seen before.
Sustainable
Domestically sourced and American made product that creates careers in craftsmanship.
The Best Solid Wood Floors in the World
Get started quickly on your hardwood flooring project with an easy to install, simple to repair, flexible material!