Walnut by Steller
Walnut is our warmest, richest Steller wood floor, and it is clear why! With chocolate tones and the occasional green or purple highlight, Walnut's variation and charm sets it in a class of its own.
Standard Finishes: Tahoe
Material: Solid Wood
Grade: Premium (FAS/F1F)
Guarantee: Steller Craftsmanship Guarantee
Prefinished: UV-Cured, satin polyurethane (no VOCs)
Sealants: Sealed on all sides
Width: 5" Wide
Thickness: 3/4" (Heirloom Luxe) thickness
Length: 5 Fixed lengths (2' to 4' long)
Source: Regional, Secondary growth
Living Wage: Local Craftsmanship Wages
Steller Floors Projects in Walnut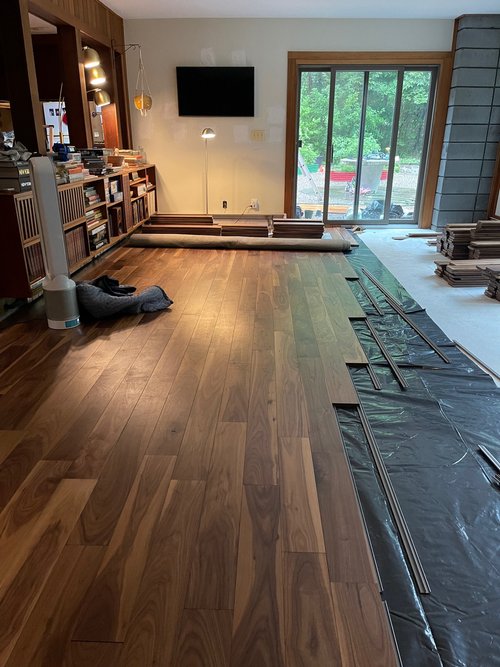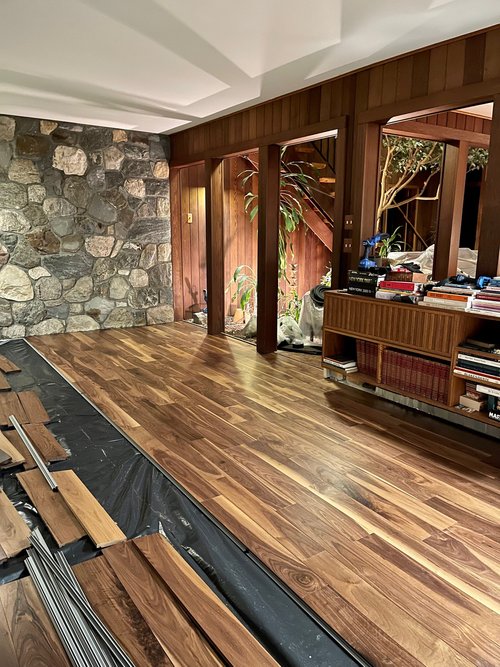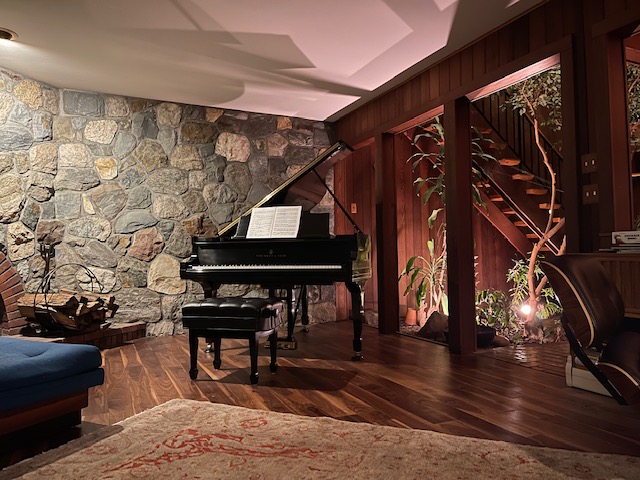 Style

Walnut flooring is so unique in its patterns and diverse color variability that it stands alone and deserves to be used in your most inspired spaces including music rooms, art studios and studies, or art and yoga studios.

Wear & Tear

Walnut trees are fruit trees and produce very soft wood – in fact, walnut floors are some of the softest floors that still qualify as hardwoods! Walnut floors won't stand up to aggressive pets or heavy shoe traffic, but it can be the perfect hardwood floor choice in socks-only areas like offices, dens, formal living rooms and bedrooms.

History

Some of the most beautiful and expensive wood floors and furniture in the world are made from walnut wood. Since Walnut trees have incredible character, even in their bark, walnut tables are most commonly found in their "live-edge" form in large conference tables and benches where butterfly-shaped insets help keep the wood stabilized. Seeing walnut used in a Steller Floor is a unique opportunity to see a huge range of colors and grain patterns in the wood flooring.

Why Steller Walnut Hardwood?

Walnut flooring is a beautiful wood due to its warm, rich tones. Steaming the wood helps to even out the extremely high color variations. In the right places (like your home!), walnut can add a feeling of coziness that's hard to get from other wood varieties.
Discover More Steller Species!
Your Steller Samples are Ready:
Avoid ordering a million samples! First, narrow your choices using our guide, and then use our sample program to make your final decision. That's why we offer packs of three:
Three samples of the same species to see grain variability.
Three samples from the same species in different finishes.
Three samples from the same aesthetic category.