Bright Hardwood Floors
Bright hardwood floors are very popular and its easy to see why. Their beauty reflects light and showcases the beauty of the wood grain. Choose Bright Hardwood Floors if you love reflected light indoors and consider your home an extension of a bright exterior.
Open, Airy Aesthetics

Light hardwood flooring varieties naturally reflect interior light. In flooring, that means that it can make species feel more open and spacious.

Modern Flavors

Light colors in hardwood floors contrast with the small seams between planks, making a clean, linear pattern. These architectural patterns are naturally more modern -- they draw the eye across the room, which tends to make a room feel bigger.

Complementary Colors

If you have a strong preference for bright floors, you might also have a preference for bright cabinets, furniture, and accents or trim. In modern spaces, bright complementary colors help the space feel more cohesive and dark objects stand out.
Steller Floors make assembly and repair easier than ever in solid hardwood materials including bright tones.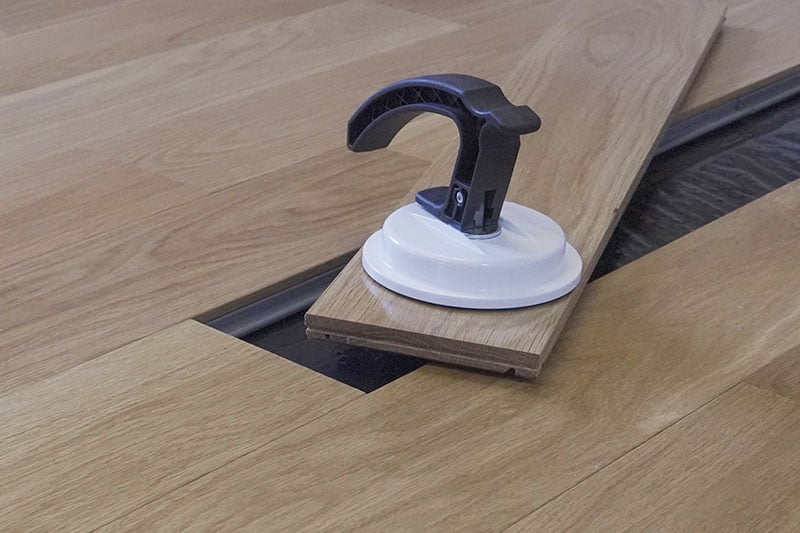 Discover Brightly Toned Floors by Steller
Natural Whitewash
Whitewashing on wood floors evens color tone and brightens rooms while allowing the true grain of the wood to shine through.
These floors are excellent at reflecting light, camouflaging light scratches and hiding dust. In general, whitewashed floors also patina less and so they will also resist shifting to golden tones over time.
Traditional Bright
Traditionally finished hardwood floors have clear polyurethane which adds a faint golden tone to the floor.
To the discerning eye, UV-cured polyurethane finishes, like those we use at Steller Floors, are clearer than site-applied finishes, and are still slightly more golden than whitewashed floors.
Clear polyurethane is the closest match to most commercially available hardwood floors that we offer and these floors are excellent at hiding dust, low levels of dirt and scratches.
Shop Bright Samples
Order curated Sample Packs to make your final decisions!
Ready to get Started with Steller?