Why Choose Floating Wood Floors for Your Interiors
Britta @ Steller
As one of the biggest trends in flooring, floating floors have gained substantial popularity over the last 15 years. Here, our team has summarized the distinctive advantages of floating floors. From easy installation to durability, Steller Floating Solid Hardwood Floors offer a stylish and practical solution for any space.
This post examines:
Enhanced Durability and Longevity
Floating floors are known for their easy installation and maintenance, but with Steller Floors you also get enhanced durability and longevity. Unlike traditional hardwood floors that are nailed or glued down, Steller floating wood floors are installed using a patented interlocking system. This system allows the individual planks to move independently from the subfloor, which prevents planks from straining against nails or glue with changes in humidity.
Additionally, Steller floating wood floors are exclusively made from high-quality solid hardwood materials that are designed to withstand heavy foot traffic and resist scratches and stains. With proper care and maintenance, these floors are designed to be used for 100 years or more, making them a worthwhile investment.
Easy Installation and Maintenance
One of the major advantages of Steller floating wood floors is their easy installation process. Unlike traditional hardwood floors that require nails or adhesives and specialized certifications, floating wood floors can be installed quickly and easily. The planks simply click together using our Steller extruded clips, eliminating the need for specialized tools or professional installation. This makes floating wood floors a great option for DIY enthusiasts or folks looking to save on installation costs.
In addition to easy installation, floating wood floors also require minimal maintenance. Regular sweeping and occasional damp mopping are usually sufficient to keep these floors looking clean and fresh. Our factory-applied UV-cured polyurethane finishes are also less prone to scratches and stains compared to traditional hardwood floors that are finished in place, which means less time spent on repairs and refinishing. This makes our floating wood floors a convenient choice for busy households or folks looking for low-maintenance flooring options.
Versatile Design Options
Steller floating wood floors offer a wide range of design options to suit any style or preference including oak, maple, and hickory, each offering its unique characteristics and aesthetic appeal. You can use our Steller Style Guide to discover how to choose between traditional and modern styles, or aesthetics for bright, mid-tone and dark floors to create a customized look that complements your favorite décor. You can also shop for samples using our catalog.
In addition, our floating wood floors can be installed in various patterns, such as herringbone or parquet, which can be blended with typical linear patterns to add visual interest and create a unique focal point in any room. Whether you prefer a classic, rustic, or contemporary design, floating wood floors provide endless possibilities for creating a beautiful and inviting space.
Improved Moisture Resistance
Our floating wood floors have improved moisture resistance compared to traditional hardwood floors because we seal our planks on all sides. This sealant acts as a moisture barrier, preventing water or humidity from seeping through the subfloor for a period of time so that you can respond to dramatic humidity shifts or floods.
In the event water damage occurs, you can use the incredible flexibility of our system to repair or replace damaged planks instead of needed to replace or refinish your entire floor. This makes them a practical choice for folks who want the beauty of wood floors without the worry of permanent water or pet damage.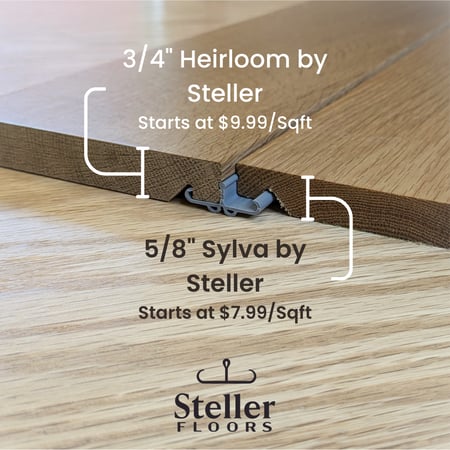 Cost-Effective and Eco-Friendly Solution
Starting at $7.99/sqft, Steller floating wood floors offer a cost-effective solution for folks who desire the look and feel of hardwood floors without the hefty price tag. Compared to traditional hardwood floors, floating wood floors are generally more affordable due to their easier installation process and lower material costs. This makes them a budget-friendly option for those looking to upgrade their flooring without breaking the bank. Discover our pricing guide to learn more.
Excitingly, Steller floating wood floors are considered eco-friendly because we utilize sustainable materials from our regional, secondary regrowth forests and we use 100% wind energy during manufacturing. For these reasons, our hardwood materials are sourced from renewable sources and require less energy and resources to manufacture compared to traditional hardwood floors. By choosing Steller Floating Floors, our clients can enjoy the beauty of wood while making a positive impact on the environment. Discover our sustainability initiatives here!
Ready to Get Started with Steller Floors?